PROJECT 23: The Return!!! ( New Album • 2023 )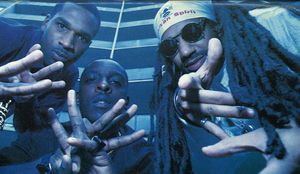 P R O J E C T   2 3
Following on from their exciting 20-Year Reunion in 2016, the band have finally committed to putting together their second album in celebration of the entire UK and Global Jungle/DnB/Bass-Music scene, aligned with their artistic and humanitarian goals in full dedication to Earth-wide Climate Justice and the ongoing fight for Human Rights.

In this light, they plan to release one of their old-skool tracks entitled "PEACE WALK" on JULY 23rd, 2023. This track was originally created in their first T23 Studios located in The Millmead Business Estate in Tottenham Hale, East London and this summer's release will feature both the new production of the track alongside the original version and proper future-flexed DnB and Future Bass ReMiXeS!

This will then be followed up by a next single release of new material and the new album planned for release on OCTOBER 23rd, 2023 ~ exactly 26 years to the day of the release of their debut album. The new album title has yet to be decided, but keeping in harmony with the Cosmic and Spiritual numerology of the group's name and connection, we offer you this:

26 years in a numerological breakdown becomes 2 + 6 = 8
8 = 2 x 2 x 2 (which is 2 to the power of 3)
Or... the number 2 "cubed"

We Flow as We Grow. See You in tha' Mix with the Cosmic Fix.
Blessings - PROJECT 23
PROJECT 23: The 20-Year Reunion (2016) / Band Origins (1995)
/
Over the course of the 1990s Drum'n'Bass shook conceptions of what could be achieved artistically with electronic dance music. Drawing on the dub techniques of Jamaican mixologists and heavily on the sounds and vibe of Detroit techno, all stirred in a cauldron of a Hip Hop sensibility, Drum'n'Bass transcended the limitations of four-on-the-floor dance grooves and introduced subsonic-bass and a plethora of high speed polyrhythmic funk to the musical sonic spectrum.

In 1996 when the world was just getting its collective head around the genre, some things were happening to take everything to another level. Cleveland Watkiss, three times winner of The Wire/Guardian Best Jazz Vocalist award, was already established as the voice of Metalheadz – Goldie's epochal Sunday sessions at the legendary Blue Note club in Hoxton. Drawing on his immersion in jazz, soul, reggae and dub, Watkiss brought the sophisticated musicality to MC'ing that Drum'n'Bass deserved and redefined the art of the MC.

Yet in the summer of 1993, just after discovering Jungle/DnB via a cassette of
KOOL-FM Pirate Radio and recognising a more than natural affinity with this Underground Sound and his own SubBass-Rock-Jazz hybrids, New York drummer/producer Marque Gilmore was about to embark on his first trip to London in Oct/Nov 1993 to produce the SONY-Music signed phenom SUNCHILDE. Once there, Gilmore experienced his first proper UK Jungle Rave at ROLLER EXPRESS, heard the living breakbeats in the air and the on the streets of London town and the musical blueprint from his childhood imaginations and Funky Reggae teenage years glued together towards him becoming a fully committed Junglist for the 21st Century!

Back in NYC 1994, one of Gilmore's original live multi-genre projects TENDER-MATRIX developed from its homegrown "Black-Acid-Techo-Tribal-Jazz" sound to full on "Junglistic Harmonization" with several live gigs in some of the city's legendary Rock, Jazz and underground clubs (CBGBs, Village Gate, Brownies, 205 Bar) and hits in the Acid House scene with the city's underground club King DJ SOUL SLINGER of Liquid Sky.

On the flipside, Cleveland came to New York in early 1995 and met up with Marque at the 205 Bar on the Lower East Side where tha' inna•most was jamming on drums and percussion with a local DJ who happened to have just bought ONE single Jungle 12"… that "live" moment sealed the deal and with a ticket bought by Cleveland, Marque was back in London! Immediately, the two dove deep into the DnB scene and born from their mutual work with Sunchilde in '93, they connected, started building tracks and vibez and formed the early stages of their collaboration then known as T23 by early 1995. Soon joined by expert cut master DJ LeRouge (-aka- Dave LeRouge, cousin to Timmi Magic of UK Garage's DREAM TEEM fame) the trio officially formed as PROJECT 23. 

Side Notes & Stories: 

* Side Note-1: On that Spring '95 London trip down at the first weeks of LTJ Bukem and Fabio's seminal alternative-DnB night SPEED, Marque decided to ask (the legendary)
DJ Kemistry (RIPP) if he could bring a small drum kit down to the early set and play along with her and DJ Storm. At first they hesitated, but with blessings given from promoter Sarah Sandy at Groove Connection, Kemistry said yes and the next week on Thursday the 6th of April, Marque came down with a drum kit (that actually belonged to Cleveland's young son!), set it up on the dance floor in the corner right next to the elevated DJ booth and proceeded to mash up da' place!!!! Before it all started, Storm respectfully asked "Are you sure you can do this?" Marque's humble reply was "My motto: any intro, any beat, any tempo…I got Ya!" Of course, this was long before smartphones and digital cameras were everywhere, so this event remains only in the memory of those who were there! Even Fabio & Bukem missed it as they played the late sets… so, ask Squarepusher, he was there. Tom Jenkinson remembers!

** Side Note-2: By summer of 1995, Marque was back in NYC and proceeded to go full speed ahead with the Live DnB experiments: In July '95, Marque with his project TENDER-MATRIX helped launch NYC's first dedicated weekly Jungle night KONKRETE JUNGLE, and in the same month, established his seminal "Interactive Jungle" club DRUM-FM as the very first dedicated Live Jungle/DnB club session…anywhere! After several experimental Live DnB and electronic music club nights in New York and Brooklyn, Marque came back to London in November 1995 invited by journalist/publisher Paul Bradshaw (Straight No Chaser Magazine) to feature DRUM-FM live at the 3rd annual "Shape of Things to Come" Music Festival at Bagley's Warehouse, alongside DJs Gilles Peterson, Nicola Conte (Fez, Italy) plus live bands LITTLE AXE and Adrian Sherwood's ON-U Soundsystem. 

This infamous event was officially the first Live DnB performance in the UK and this DRUM-FM London premiere also featured many guest artist appearances including Hiphop poets Jonzi-D (Breaking Convention/Sadlers Wells Theatre) and MANNAFEST, as well as the very first stage experience from then on-tha-microphone duet MC Tricksta and the one and only STAMINA MC! The story continues… 


Assuming the moniker "Origin" (3 years prior to the Metalheadz club nights), Cleveland, Gilmore and LeRouge hung tight and vibed up to create, compose and record their debut album "23" and once signed to Dorado Records, they took off as PROJECT 23, becoming the UK's first Live Drum'n'Bass band!

"23" is considered to be a "landmark album" [Straight No Chaser] of 90s electronic music. Until its release if you asked anyone if it was possible to play Drum'n'Bass with live musicians, the answer would have been a firm NO. But it was Gilmore's almost superhuman fusion of lightning fast acoustic kit drumming and then developing his patented style of sample triggering from electronic drum pads, that proved all of the naysayers wrong.

"Seeking to reproduce the results [of 23] live would be impossible without the awesome talents of Jazz drummer Marque Gilmore" – Neil Spencer, The Observer

However, with musicians of such lineage and with such creativity, "23" is more than a Drum'n'Bass album: "It translates to areas outside the dance floor… resulting in a refreshingly multi-hued jungle trip". – Tony Green, Jazz Times

"This is Drum n' Bass that will progress, that will access new audiences. This is the future."  – Mixmag  

Among rave album reviews and wide press interest in their live DnB performance technology, PROJECT 23 delivered their first single "Pleasure & The Pain" with an epic PESHAY B-side Remix to SINGLE OF THE WEEK, Mixmag (Aug'96 + 5-Start Anthem rating!); and SINGLE OF THE WEEK, NME (Sept'96); #1 Album ECHOES JAZZ CHART (Oct'96); 2nd single "Day of Sunshine" Dance Single of The Month Camden New Journal (Oct'96); 3rd single "SUGARIZE" featuring stellar remixes from wonderkund breaks producer BOYMERANG and an exclusive Hard-Stepper from the Jungle Maestro himself... RAY KIETH!

2016 was the 20th anniversary of the release of "23" and just as technology had evolved, none of these artists had stood still. A very special show for the London International Arts Festival on November 3rd at OSLO in Hackney, East London brought the collective back together for the first time in almost 20 years. Drawing on the original material from the "23" shows, it once again took the audience on an audio-visual, consciousness-raising journey from the past to the future.

Following the huge success of his history making BBC documentary, Hip Hop World News, UK Hip Hop icon Rodney P joined PROJECT 23 as guest artist on the night, as well as UK Jazz saxophone supremo Steve Williamson. With revolutionary visuals from Hyperjam's Derek Richards and an opening set from the avant-improv BLACK TOP with Maestros Orphy Robinson and Pat Thomas (with inna•most Marque Gilmore as their special guest), the night was both a throwback to high quality old school Cosmic Jamming and a Deep step forward into the Future of 21st Century Soul Music...

PROJECT 23 is back!
 
"PROJECT 23 finds Cleveland teaming up with drummer Marque Gilmore and DJ LeRouge
for what in time may be seen as an awesome landmark album... 
while the dangerous Gilmore weaves live magic with his wrist snapping percussive speed." 
- STRAIGHT NO CHASER ALBUM REVIEWS (AUTUMN 1996) -